More stunning statistics have revealed that millennials will be on the move next year. According to ​Deloitte​, only 28% of millennials expect to stay with their employer for five years or more. For top companies, a larger than normal turnover of staff can cause widescale operational disruption, stalling growth in the process.
Generation Disruption
Disruption in business can often lead to groundbreaking and progressive innovation, taking industries to new heights. However, uncontrolled disruption, particularly of human resources, can be detrimental to business operations. As a generation, millennials are moving faster than ever, pivoting from one role to another as they try to navigate their careers.
Top companies, who are in many cases the cornerstone of the global economy, need to dig deeper into the wider trends of millennials and Generation Z in the workforce. In understanding why millennials show very little loyalty to their employers, top companies need to develop strategies to mitigate the risks associated with having a high staff turnover.
For many years, Deloitte has published comprehensive, eye-opening surveys with detailed analysis of millennial behaviors and attitudes. This year is no exception. The professional services network has collected the views of 13,416 millennials questioned across 42 countries and territories, and 3,009 Generation Z individuals from 10 countries.
This data gives top companies a snapshot perspective of what to expect as we head into 2020. With millennials representing an ​increasing share of the workforce​, the findings of this research are more relevant than ever. If companies are going to take strategic action to settle their millennial workforce, they will need to get a plan together quickly. So, to identify an effective strategy, why are millennials leaving top companies?
Millennials Don't Feel Appreciated
The survey has found that 23% of millennials who plan to leave their workplace in the next two years do not feel appreciated. Until now, top companies that have traditionally focused on profitability and revenue growth. Going forward into 2020, these top companies will be in a race against time to adopt new strategies that promote peer recognition in the workplace.
Peer recognition is a fundamental component of a happy and productive workplace. An ​extensive study of happiness and productivity​ has found that workers are 13% more productive when happy. Peer recognition is the simple act of recognizing the efforts of coworkers in the workplace, no matter how small they may be.
Distribution of Happiness and Sales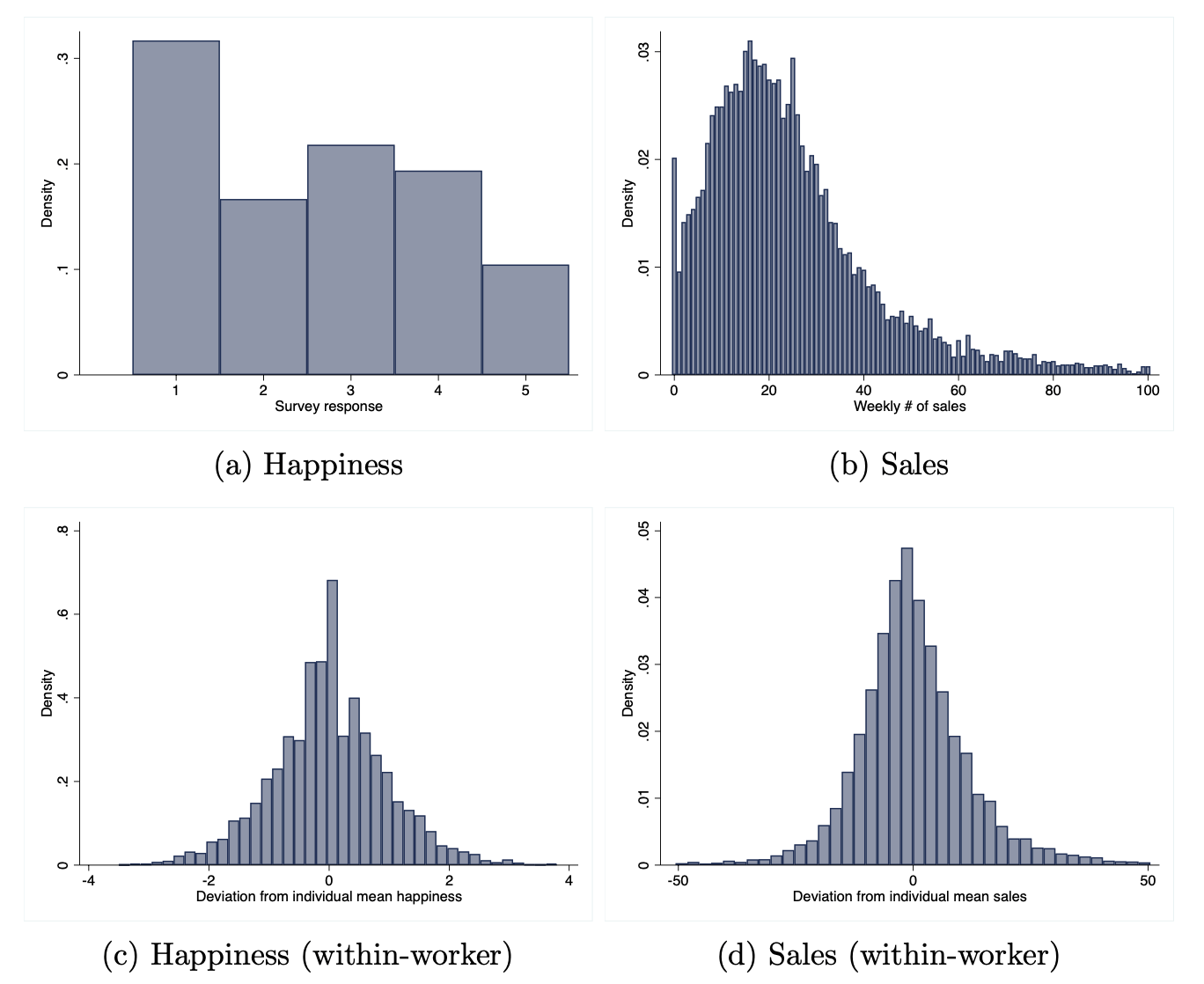 Note: Panels (a) and (b) show the overall distribution of happiness and sales. Each observation is a worker- week. Panels (c) and (d) show the extent to which these two variables vary within-workers over time. These latter graphs show the residuals from OLS regressions of each variable on individual fixed effects. An observation is an individual-day residual from each regression. Source
For employees who spend most of their day working independently, a gesture of appreciation for their hard work can motivate them to continue being productive. It's best to think of it as being like a workplace reward scheme, placing an emphasis on results whilst ensuring the achievements of employers never go overlooked.
With many millennials feeling a lack of appreciation in the workplace, it is no surprise that 50% of this generation has put consideration into the idea of joining the gig economy. The grasp that top companies have on their millennial employees is quickly loosening. They must now act to reinspire and reenergize their millennial workforce to boost productivity and prevent the potential disruption that high employee turnovers could cause.
Karma Bot Helps to Prevent High Employee Turnover
Providing your teams of workers with peer appreciation, recognition and micro-feedback is vital to preventing early exits. Taking the time to consult with the rest of your team to craft a seamless peer recognition system can be time-consuming. Fortunately, we've already done all the heavy lifting for you, with ​Karma​!
Karma in 2019
In 2️⃣0️⃣1️⃣9️⃣ we grew 5x, topped $100k ARR and kept NPS mostly over +75.
👍 307,899 Karma sent
🤝 33,360 People sent/got karma
👏 4,001 Active teams
🎁 2,077 Rewards purchased
💎 6,514 Company values endorsed
🙏 4,835 'Thank you's
🌟 4,511 'Awesome!'s
Top reactions: 👍😂❤️👌🎉
Using Slack or MS Teams at work? Try Karma. It's good.
What Our Customers Say
"The best tool for motivation and rewarding remote team in Slack!" – Roman N, Small-Business(2-10 employees)
'What's really handy is proving feedback "in-the-moment" without having to wait until the monthly or annual review. Also - no such thing as "too small of a job well done" which is an excellent and fun way to keep the team engaged' – Consultant in Civil Engineering, Mid-Market(501-1000 employees)
"Sharing Karma around quickly became a habit" – Administrator in Information Technology and Services, Small-Business(11-50 employees)
See more detailed reviews at G2.com »