Shared values are at the very core of every business. They keep employees engaged and focused, give your business an original voice, and are the basis of product design and development. A clear mission statement and frequent reinforcement are vital to the success of a startup. Yet, all too often, the values that should be at the forefront of daily activities quickly fall behind metric-based, individual goals and the company as a whole suffers as a result.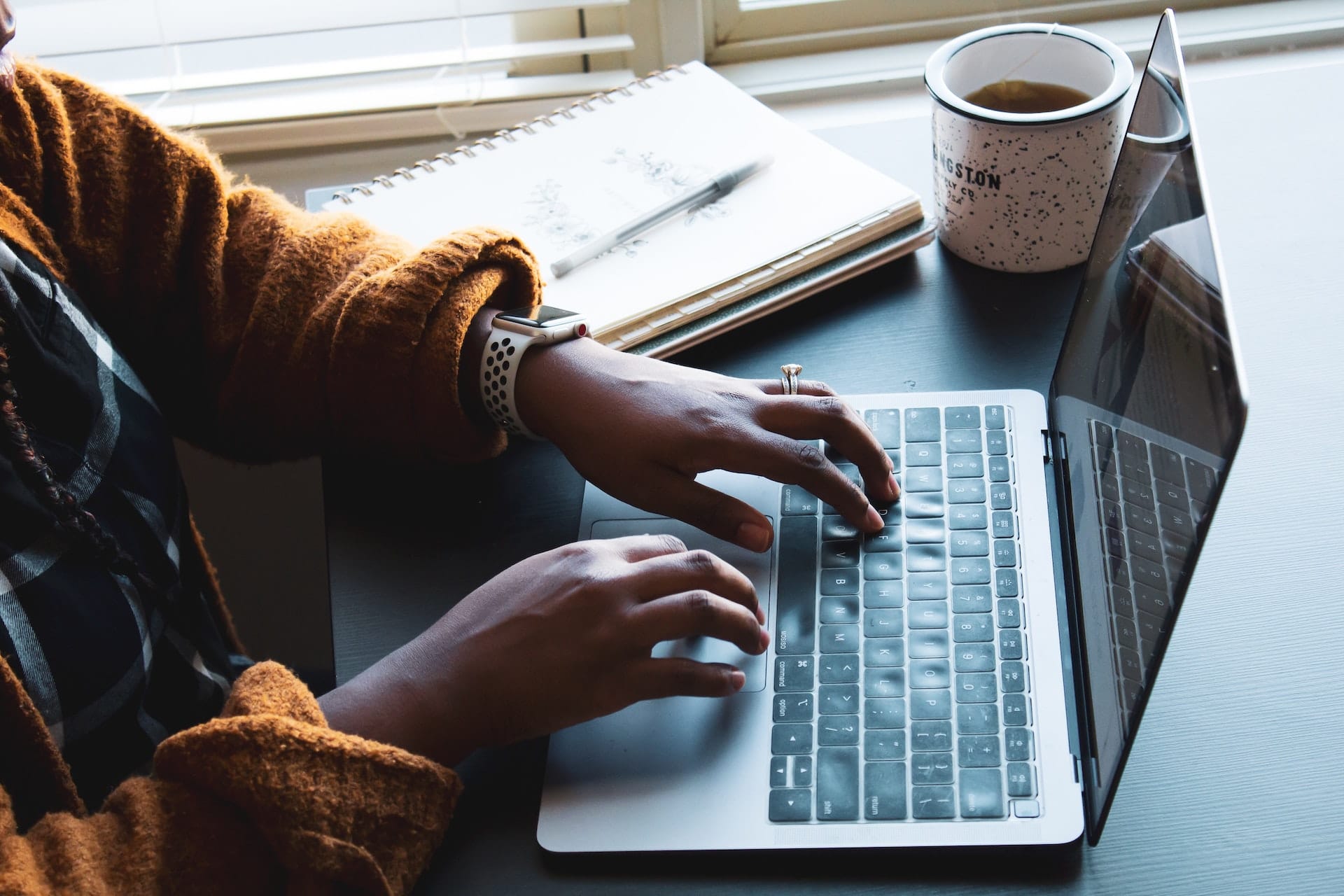 In the early stages of a startup, sitting down to discuss what the company's values will be is often a conversation full of excitement and passion. What problem(s) will you solve for your users? How do you want your users to feel when they engage with customer service? What will be the tone of the company? How do you want your employees to feel about the company and their roles in it?
The answers to these questions are the foundation of a business, and letting those foundations crumble is a recipe for disaster.
Why are clear values so important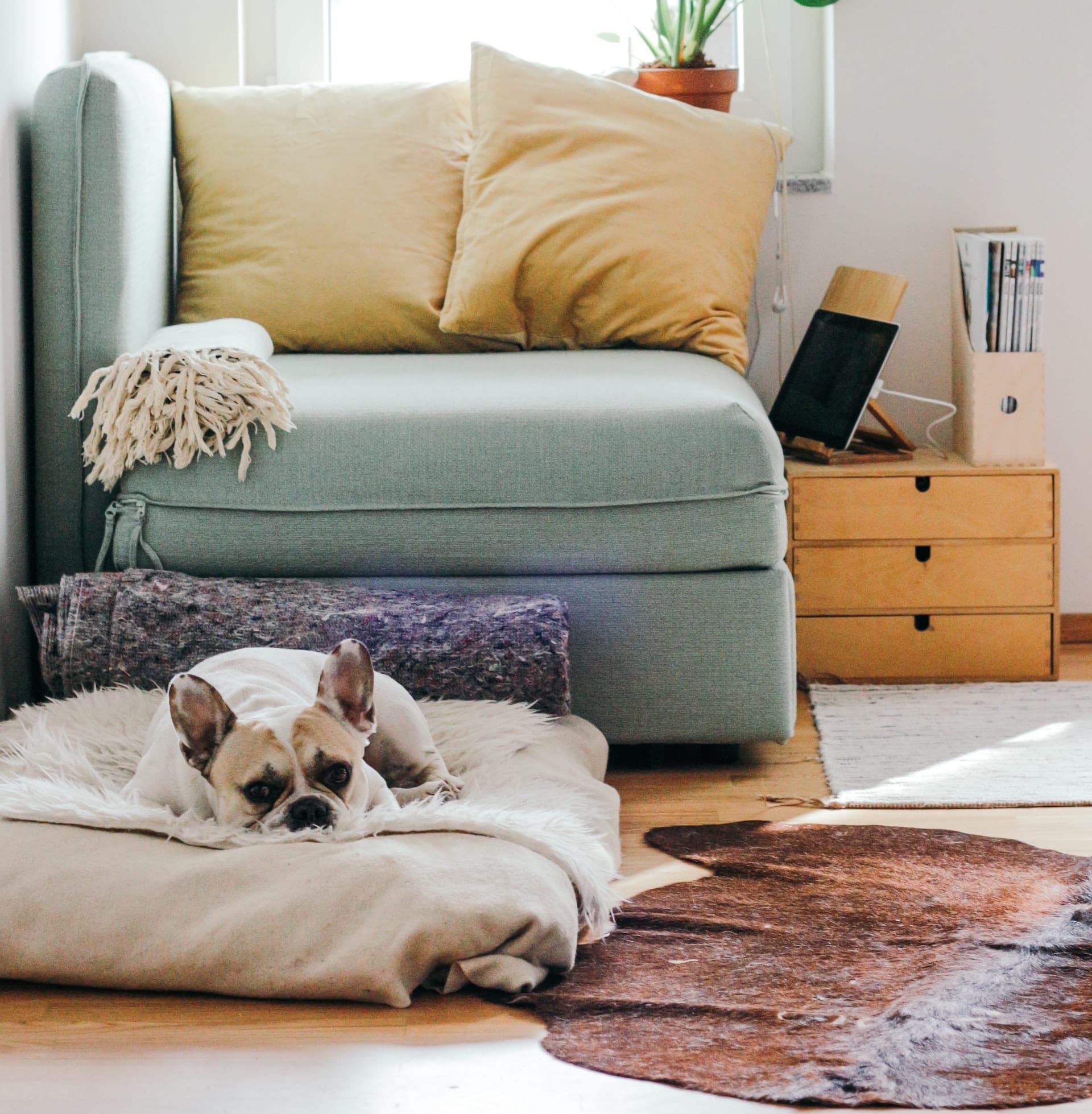 Company values refer to the organization's overall mission and goals for the company. They will inform many of the decisions that shape the direction of the company and may evolve over time in response to market and company changes.
Shared values are the values that most, or all employees share that drive them towards reaching a common goal. Simply achieving financial success is rarely enough to keep teams engaged. An innovative medtech startup may lean towards hiring people who are passionate about achieving free healthcare access in remote communities. An outdoor gear company might be staffed by people determined to protect the environment. These shared values unify teams to work towards a common goal. Knowing from day 1 what problem your business will solve and ensuring your hires share a determination to make that happen will help the business reach its goals.
Employees are everything to a business. They design the products, build rapport with customers, and grow the community. Everyone working towards a common goal rather than simply getting their tasks completed is often the deciding factor in the success of a business. Despite this, only 27% of employees in the US strongly believe in their company's values.
Values may evolve over time which makes frequent communication vital in ensuring the values remain clearly defined and shared by all involved. Making sure employees have their say as those values change can make all the difference.
Supporting shared values with Karma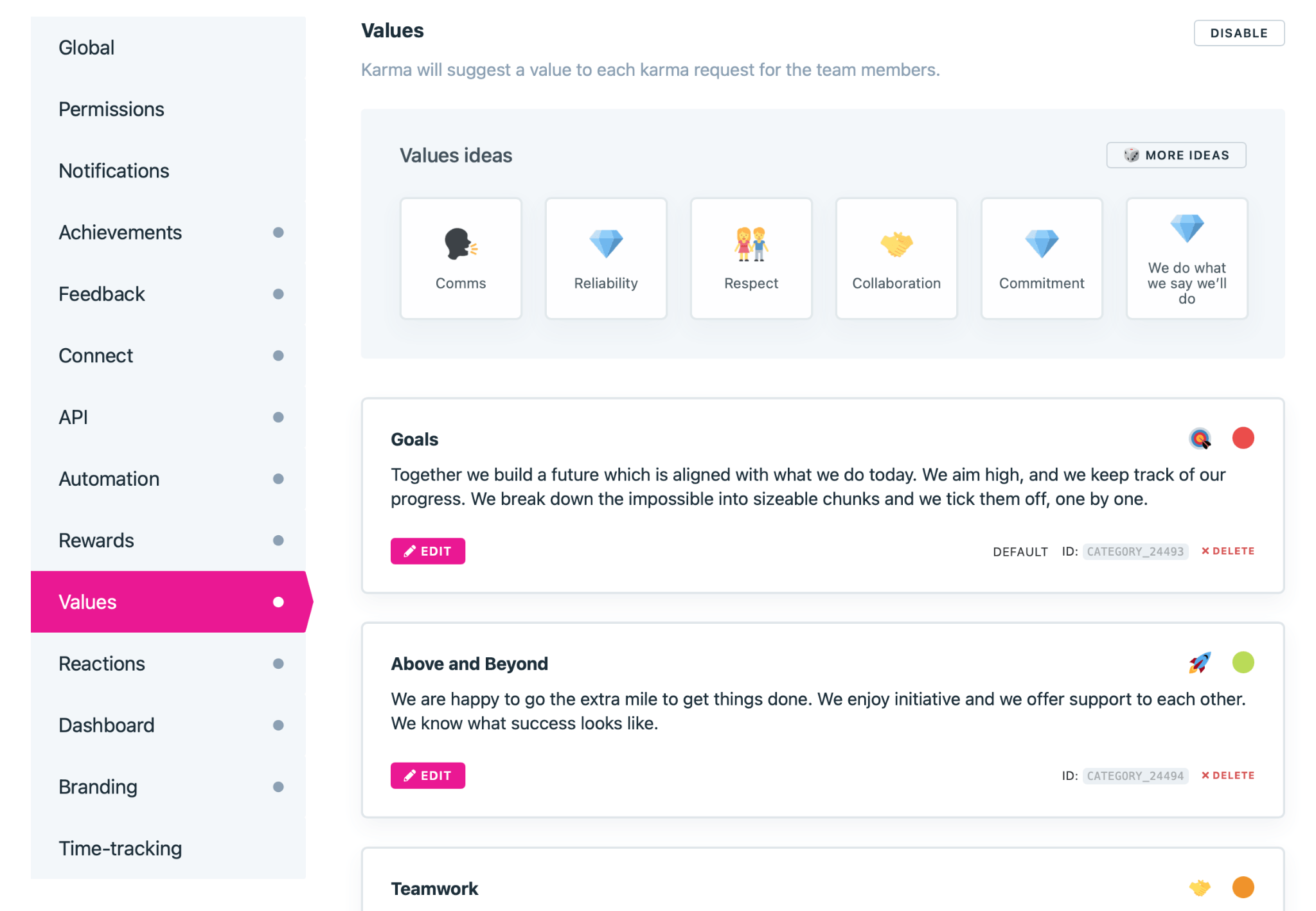 Regularly examining the mission statement and shared values with the whole team will ensure everyone remains enthusiastic towards the common goals. Reinforcing those goals by making them a part of everyday company culture can fuel growth.
Karma makes solidifying and living by company values easy with several tools that help employees feel great about the work they are doing. Karma integrates with Slack or MS Teams and is used directly from the chat window. It takes very little time to set up and use but provides huge rewards for teams looking to strengthen the company and shared values.
"As a knowledge organization, culture and values are our main asset. We are continuously looking for ways to reinforce them. Karma bot gives us an opportunity to express our values in a very positive and ad-hoc way. It has significantly improved our direct feedback culture and interaction between each other. The tool is super easy to integrate and use and has all the relevant functionalities." – says Daniel Nowack, Managing Director.
Share regular reminders of the values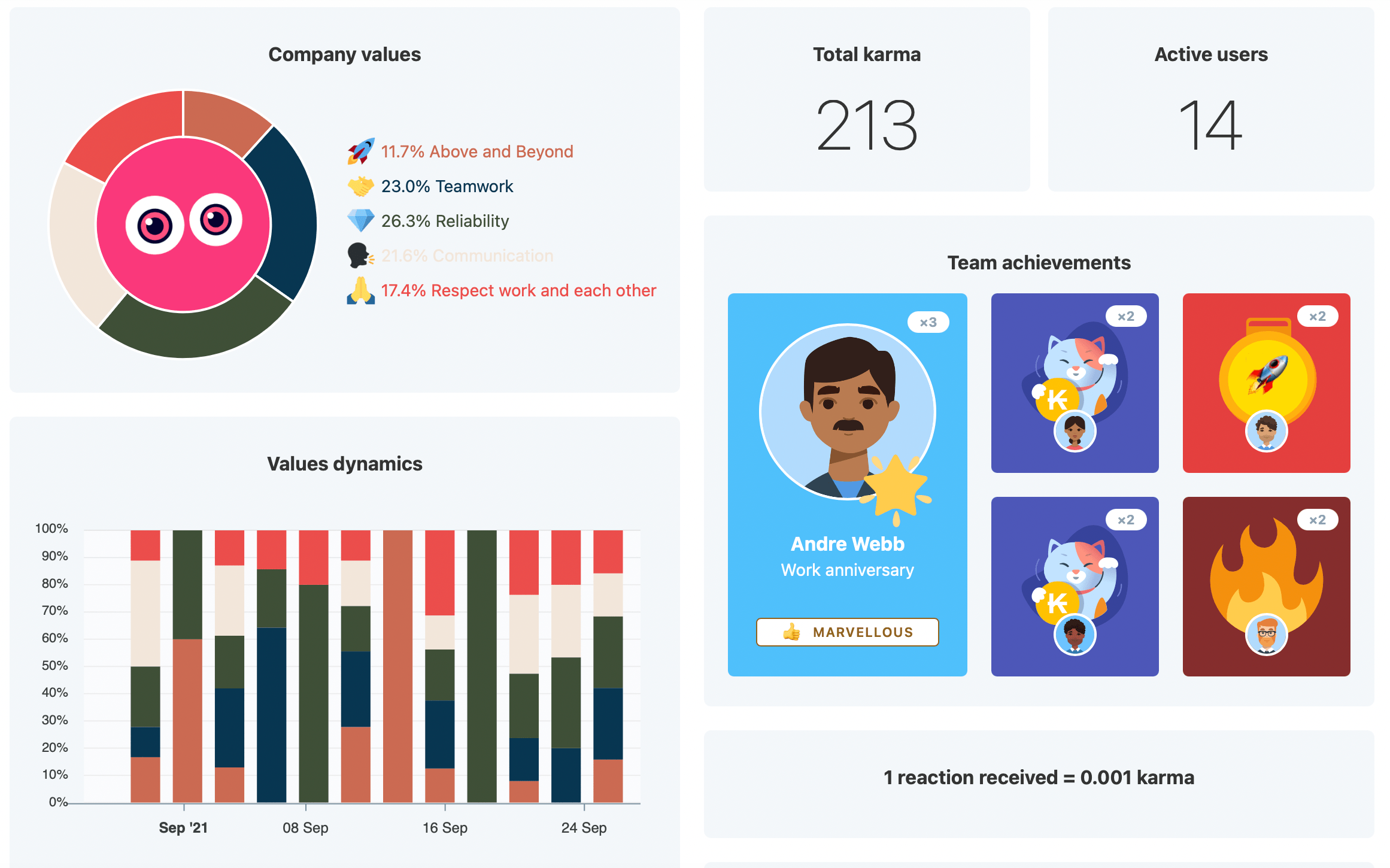 We understand that values need to be more than just a mission statement on your website. To really shape the day-to-day work your team does, values need to be embedded in company culture.
Karma allows you to set your own company values which can be called with a simple command. Management can separate the values into five categories and assign each with its own values and colour. Employees can receive shoutouts when they excel in a specific category, and the breakdown of how they are performing in each value is available.
For more info on our core values feature, check out this blog post.
Provide frequent recognition for a job well done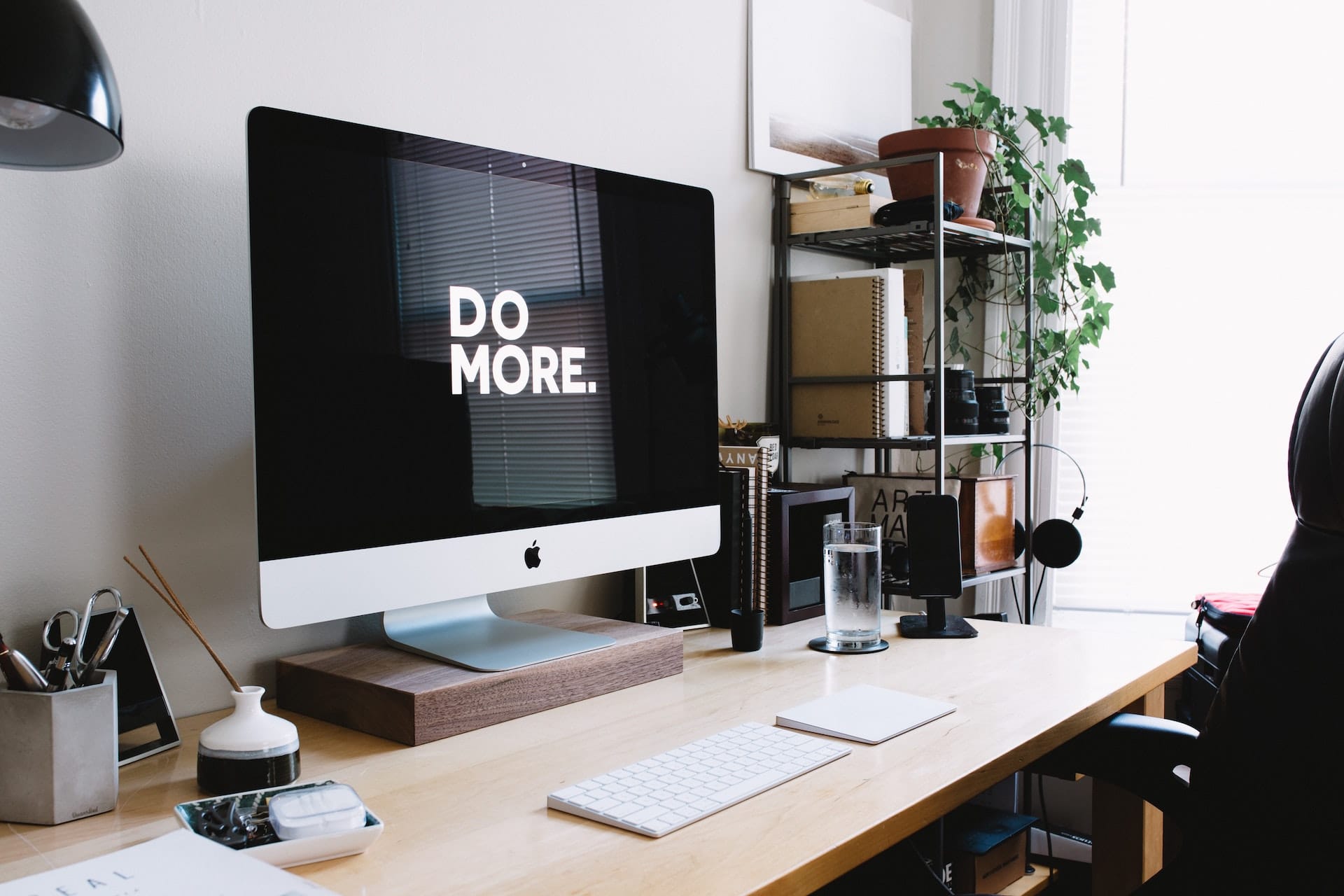 When employees feel fulfilled at work, they are far more likely to help recruit new talent, go the extra mile with customers, and take initiative. Recognizing employees for their hard work in Karma is as simple as typing their name and a supportive message. This micro-feedback contributes to a positive workplace culture while keeping the company's values at the forefront of everyone's mind.
When a team member is recognized for a job well done, they receive Karma points which can be redeemed for rewards.
"We have a small team that would otherwise not be inclined to provide each other feedback. Karma gives them a quick, safe, and easy way to recognize each other's contributions and impact to our team. We also love the rewards as we've been able to use these to motivate behaviors that would otherwise be hard to track and recognize with such a small team. The Rewards make the positive behaviors turn into real value for our teammates. Its a really great way to reinforce the culture we want for our team." – says Dalen Abraham
Keep teams connected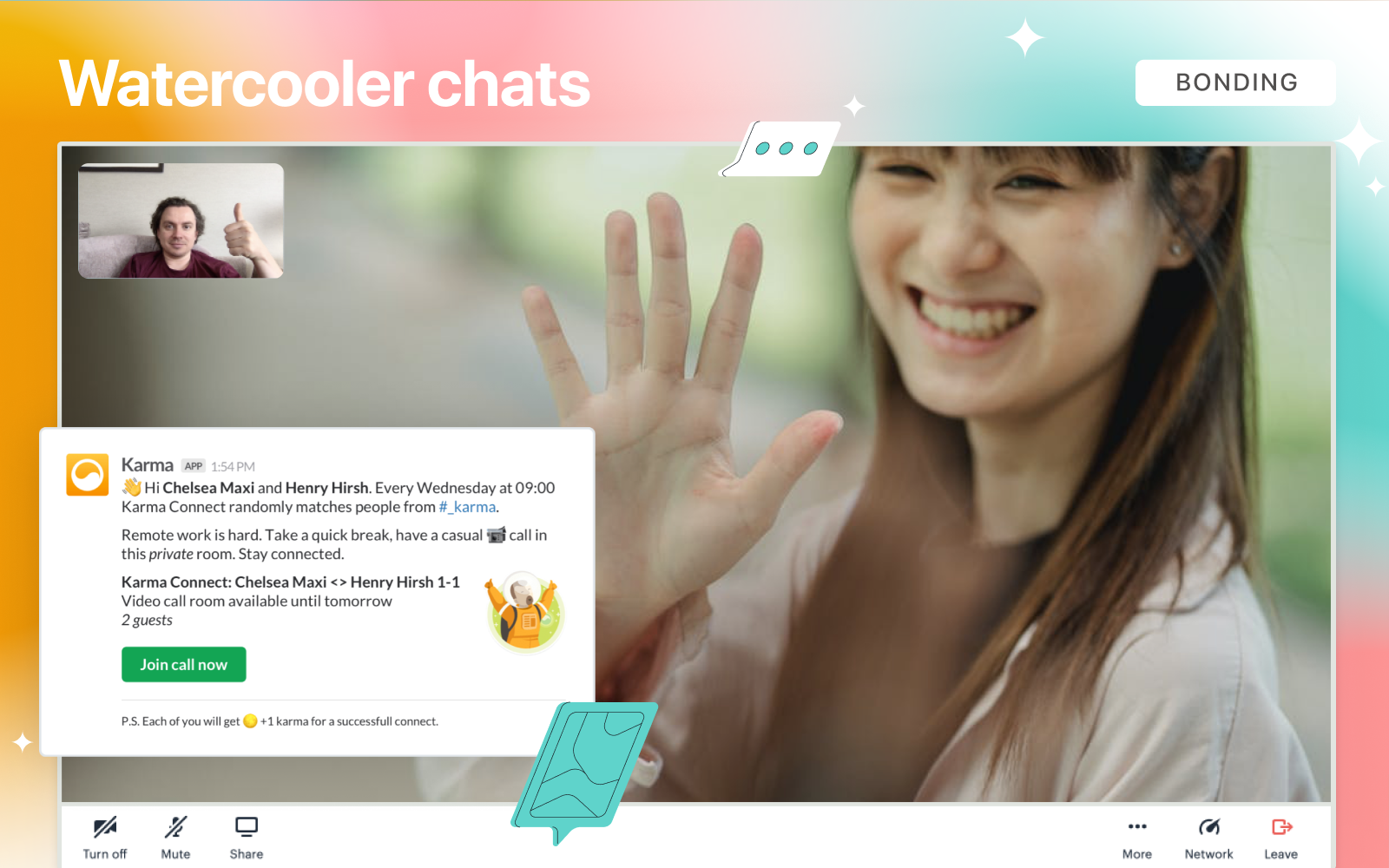 Shared values lose much of their power when teams stop sharing. Bonding activities and water cooler chat help employees bond and connect over their shared experiences. It builds a community within the workplace that encourages working towards a common goal.
However, many workplaces have continued working remotely in response to the COVID-19 pandemic. According to a survey by Miro, some employees who have switched to remote work report feeling disconnected from their company, are more likely to question their own accomplishments, and 56% of survey respondents miss the engagement from face-to-face meetings. Keeping employees socially connected even when separated by screens can increase motivation.
Karma Connect is a fun new feature designed to mitigate the loss of social conversation between team members. The tool facilities 1 on 1 video chats by randomly connecting two team members at a specified time.
"Most of our team works remotely, so Slack is our office. Karma bot helps us to share good momentum within the team and help others to visually praise it. It makes a positive and supportive culture even when we do not see others in person often." - Tomohiro Takano, CEO at Genomelink
Reward employees when they align with the values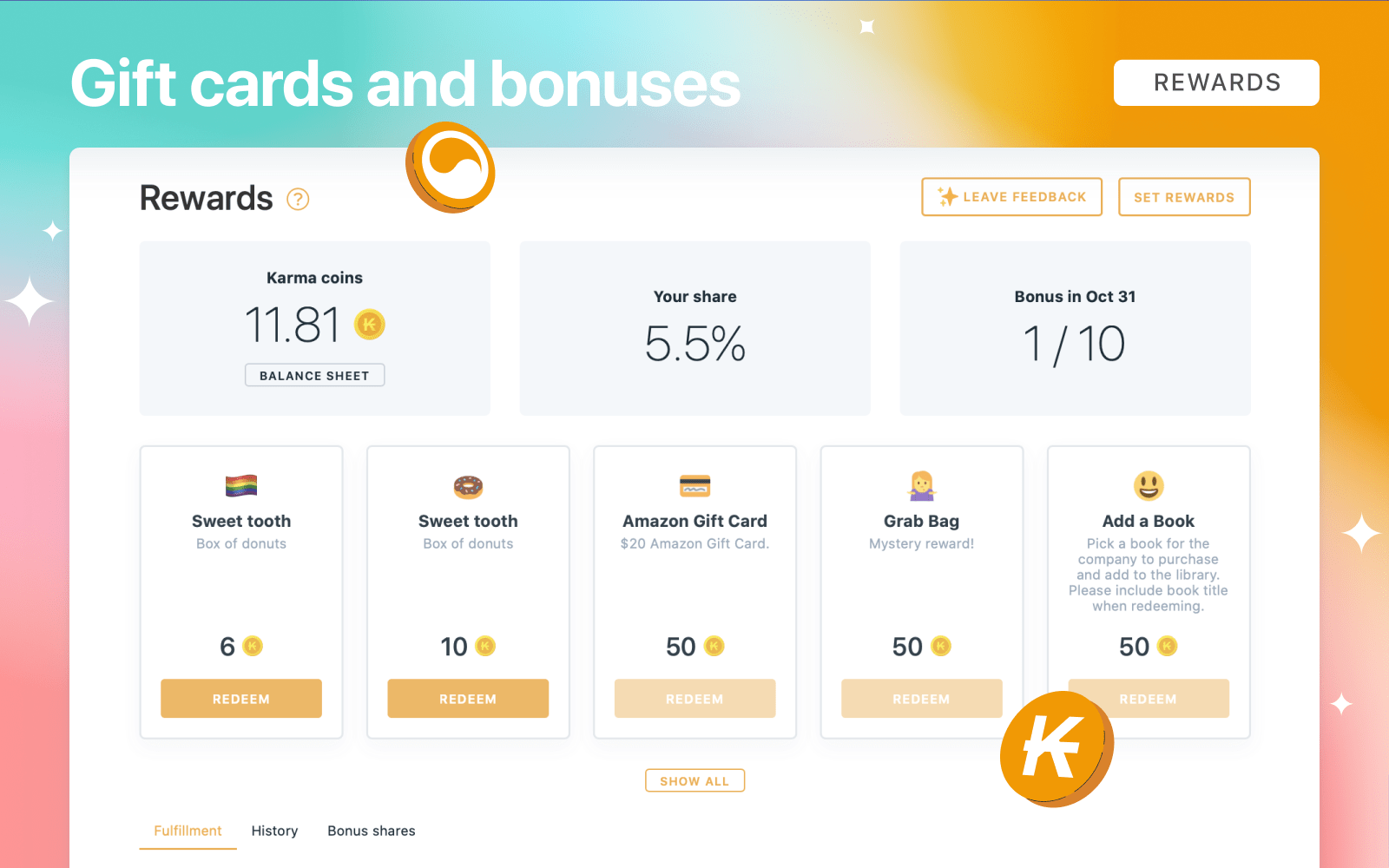 Offering rewards to employees who constantly strive towards a common goal can keep everyone focused and excited. Using Karma, rewards can be set by management to reflect the interests of each team such as a day off, gift card, or free lunch. Rewards are redeemed with Karma points gained from micro-feedback and reaching goals.